Waterloo Warriors
---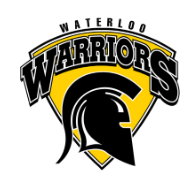 University of Waterloo
Waterloo, ON
OIWFA
We had a chance to speak to Chris Meyer, one of the members of the coaching team at the University of Waterloo...
How long have you been involved in the program?
In the summer of 2018 I saw an advertisement for the head-coaching position posted on social media. I reached out to Lisa Ryerson who was formally looking after the team. After a couple of conversations I was lucky to have them award me the position. I then reached out to some of my long-time softball partners and we formed the new coaching team here at Waterloo. Doug Clements, Bill Kuntz, Tom Schultz and Rachel Schultz along with myself have been with the team ever since. We have really only been a part of three seasons over that time period because of the pandemic. 2021 was a great season for us, and we look forward to even better things to come!
What is the University of Waterloo known for academically?
We are recognized across Canada and the world as one of the best schools for co-operative education, computer science & engineering. We have so much to offer, with our expansive campus, plenty of green space & being in the heart of the growing community of Waterloo.
What does Softball look like at the University of Waterloo?
On campus we are recognized as a competing club team. That means we are not a varsity program, so all our expenses are ours to manage. We have to fundraise to cover things like uniforms, league fees, umpire costs etc. In season (fall) we practice one night per week. All student athletes are told before they become part of our team that academics always are first priority. You have a class, or an assignment you MISS practice, no debate. Our season takes place in September and October, typically over 5 weekends. Most of our games take place Saturday and Sunday, with perhaps an odd weeknight game thrown in. We carry a large roster of players, and then select 18 students to participate in our league games. The remaining roster is eligible for practices and to attend the exhibition games we add to our schedule each fall. We have the ability to use our brand new Field House all season, and we take advantage of that for our practices in the winter. We do have a diamond on campus for practice, we choose to play our games off campus at an A1 diamond in Kitchener or Waterloo. All of our practices are fully open to our entire student body. We do not prevent anyone from learning and practicing their softball skills.
How much does it cost to play softball at Waterloo?
We have been lucky and have used summer tournaments (partnering with UTM Fastpitch) to help off-set the cost to our student athletes. Each student does have to pay an Athletics fee each term, and that is around $75.00. Depending on our travel commitments, some additional expenses may need to be paid by the players to cover the cost of hotels and transportation. Our school is central in our league which makes it good with respect to longer road trips that other schools have regularly.
What does a road weekend look like for your team?
We would review the schedule, and if needed arrange lodging for the players. We have not had to travel extensively since my involvement with the program, but for short term trips to date we use bus transportation. If a hotel stay is needed the players would bunk up together, do a meal at a nearby restaurant etc.
What is something unique about Waterloo?
We try and bring out local youth softball players to participate in our pre-game warm-up. It is a chance for them to hang out with the student athletes. The younger players love it, and the older players that come out often use it as a chance to ask the coaches and players about anything Waterloo Warriors Softball related.
As a club team on campus, our team has an executive which includes a President and other roles. Each term the club reports into the Club Athletic Director and shares the happenings of the club.
How do players get in touch with you?
You can contact me at UWfastball@gmail.com, or contact us on social media. Our coaching team does plan on attending some U17 & U19 tournaments this summer to meet players that may be interested in attending Waterloo down the road. We are fundraising this summer at the UTM U13 Big Show Tournament in Stratford. Our students and coaching leaders will be on site all weekend.